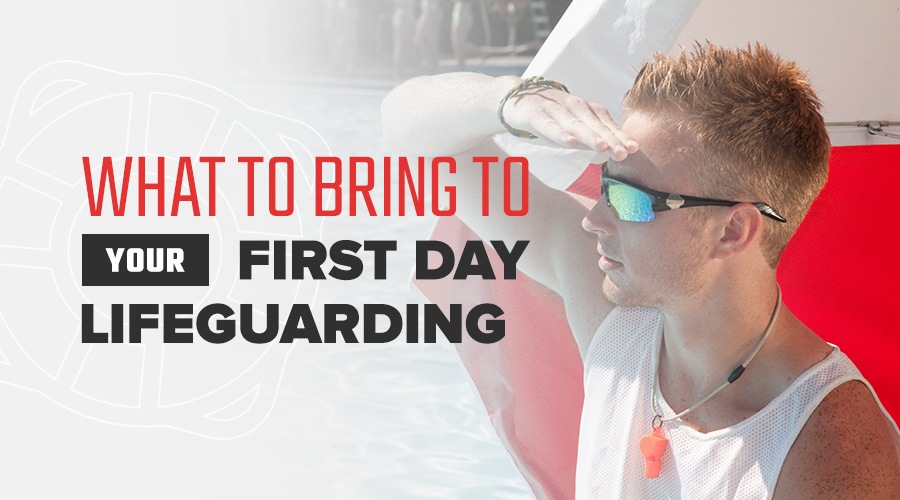 Starting a new lifeguarding job is exciting and perhaps a little nerve-wracking. To prepare, you'll want to know what to bring to work as a lifeguard from day one. Every lifeguard needs a few essentials on hand at all times, and it's smart to gather these supplies before the job starts. Here's everything you need to know about what to expect on that exciting first day of work, and what to bring with you.
Your Lifeguarding First-Day Checklist
You'll need to have several things with you on your first day of lifeguarding, and every day working as a lifeguard after that. First, get a dedicated bag for your lifeguarding supplies, and ensure you always have it organized and ready to go. Backpacks and small duffel bags work well as lifeguarding bags that will hold all your essentials. The exact details of what you may need can vary depending on your job and where you lifeguard, but in general, these are the lifeguard bag essentials you should have.
Uniform and swimwear: Every lifeguard needs a swimsuit! If your job has a required uniform, be sure to wear or bring it to work every day. If you have some leeway with your swimwear choices, be sure to find something comfortable, as you'll be spending a lot of time in this suit. Your uniform may also include shorts and a T-shirt you can wear over your swimsuit, so be sure to wear or bring these as well. You might also want a sweatshirt or light jacket in case of cooler weather. A hat or visor is also a practical accessory to shade your face from the sun, but this is usually totally optional.
A towel: Keep a quality towel in your gear bag to dry off after time in the water. Choose absorbent, lightweight towels.
Whistle and lanyard: Ensure you've got a whistle and a sturdy lanyard to keep it safe and handy. Whistles help lifeguards signal to swimmers and co-workers.
Personal care items: Be sure to take care of yourself while on the job. Pack a UV-blocking pair of sunglasses to protect your eyes from the sun and glare off the water, and some lip balm and sunscreen to protect your skin. Look for SPF 30 or higher on any sunscreen product, including lip balm, and remember to reapply every two hours to avoid sunburn and skin damage. Lifeguards tend to go through lots of sunblock, so stock up!
Water bottle and snacks: Staying hydrated is crucial for lifeguards, especially in hotter weather. Keep a quality water bottle in your bag at all times, top it off with fresh water, then remember to drink up. Pack a few healthy snacks in your bag, too, to maintain your energy levels throughout the day. If you have a long shift, don't forget a meal for your lunch break.
CPR mask: Prepare for emergencies while protecting yourself with a CPR mask. You'll find various CPR masks available, from simple pocket shields to fancier mask kits. All these masks allow a rescue worker to perform lifesaving CPR while preventing the transfer of saliva or other bodily fluids.
CPR and lifeguard certifications: On your first day on the job, you may need to bring your lifeguard and CPR certifications to show your manager before you start. You likely won't need to carry these around every day, but you'll want to have them handy if you complete a recertification course or begin a new position.
Once you've got all these essential items packed in your lifeguarding bag, you'll be fully ready for your first day as a lifeguard. With your supplies on hand, you're all set to hit the pool — or beach. Once you're on the job, you may also receive additional supplies to carry with you, such as a first-aid kit, a rescue tube, a walkie-talkie or other items a lifeguard needs to fulfill their responsibilities.
What to Expect During Your First Day
The first day on any job can be a little bit anxiety-inducing — especially with a responsibility as vital as lifeguarding — but you don't need to be nervous. After all, this is what you've been training for. Before your first day, study your lifeguarding manual or handbook to ensure all the information is fresh in your mind when you start work. You may also want to review these guidelines periodically throughout the season to ensure you remember everything you need to do to respond quickly in emergencies.
On your very first day at your lifeguarding job, you will likely have some additional training on the procedures specific to that job. Initially, you may shadow another lifeguard or employee before you get to work independently. When you start lifeguarding, your supervisor will probably assign you to a post, either standing in one area or sitting in a lifeguard's chair. In either case, you'll need to keep scanning the water, ensuring all swimmers are safe and following the rules.
Remain at your post until it's time to switch places or go home for the day. Keep yourself hydrated and well-fed, so you have the energy to keep working. Stay vigilant, watching for any issues and dangers, and don't be afraid to ask questions or request help when you need it. When you take time to prepare for your first day of lifeguarding and have the right supplies on hand, you can work with confidence and succeed at your new job.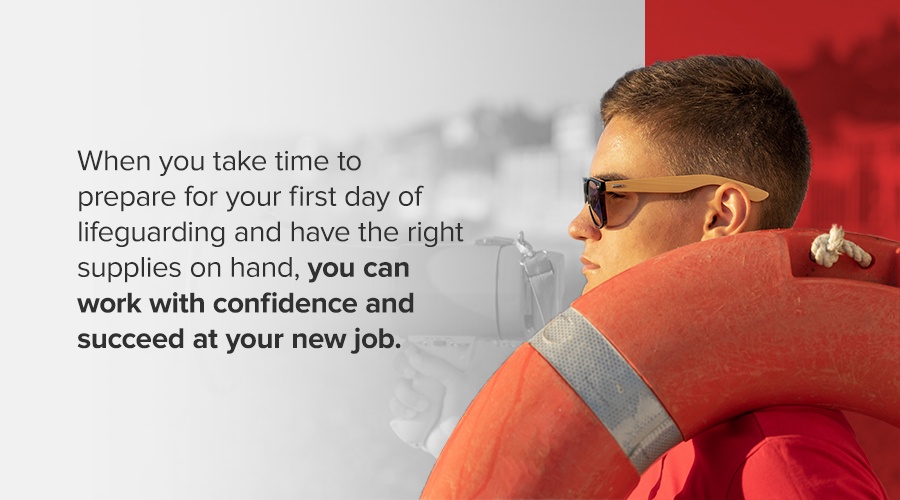 Get Everything You Need for Your First Day of Lifeguarding
If you're gearing up for a new lifeguarding job, you'll want to get all the essential things a lifeguard needs. Stock up on supplies for a lifeguard's first day at The Lifeguard Store. From swimsuits and extra clothing for lifeguards to water bottles, bags, first-aid equipment and sunscreen, we are your one-stop shop for all your lifeguarding gear. We offer an extensive selection of lifeguard products and have excellent customer service to help you find what you need. Shop with us today!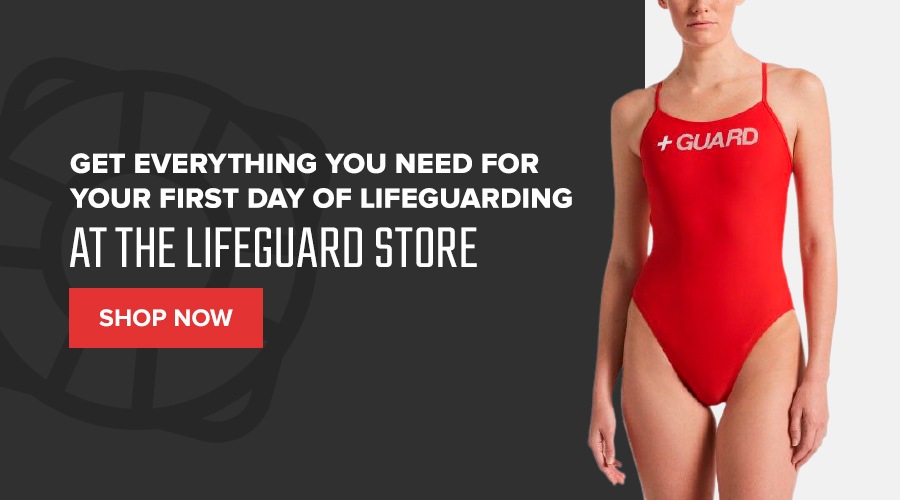 Learn More About Lifeguarding: