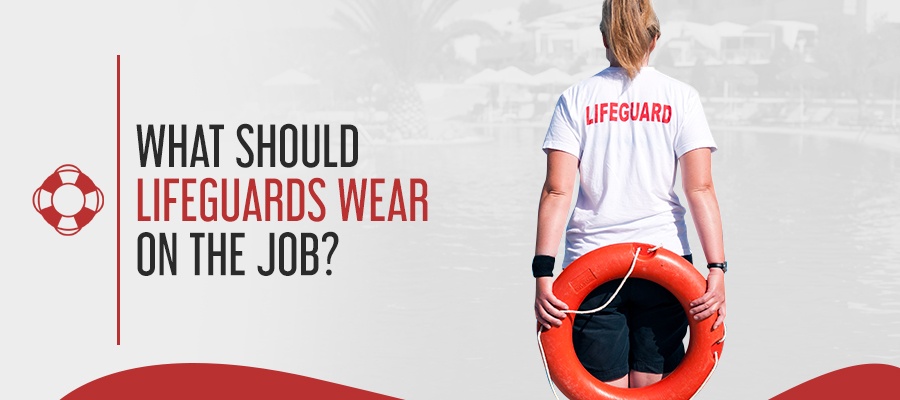 It's essential to know what to wear as a lifeguard. You need to be able to jump in the water at a moment's notice, move your body without restriction and stand out from a distance in case of emergency. Every second counts. You need the right swimwear, apparel, footwear and accessories. Learn how to dress as a lifeguard.
Swimsuits
The right lifeguard swimsuit is one of the most important elements of the lifeguard uniform. Your suit needs to stand out — everyone should recognize you as the lifeguard from a glance. Standard colors are red with white lettering, but you might wear blue or black depending on your role. You should also have a full range of motion without having to readjust or feeling any restriction.
Women's Options
Women's lifeguard suits allow for some variety. In many cases, the best option is a simple cutout or racerback one-piece suit. This offers full mobility and security, as well as sun protection on your stomach. You can be sure it'll stay on tight no matter what you need to do.
If you have the option to wear a two-piece, make sure to choose something secure. Many women's two-piece swimsuits are designed for fashion over function. Remember, you have to be able to jump into the water and rescue someone. Choose a suit that will cling to you, like a reversible workout-style bikini. Opt for a snug, secure fit. You might also overlap your bottoms with a pair of lightweight flex shorts.
Men's Options
As a male lifeguard, you may only need adjustable swim trunks with an elastic waistband. However, you might decide to pair your trunks with a short or long sleeve crew neck rashguard. This will offer some sun protection as well as warmth on cooler days. It's quick-drying and flexible, so you don't need to take it off before a rescue. You can print your logo onto it as well to help you stand out from the crowd.
Apparel
Some days might be cold, windy or rainy. If you need to put on outerwear, you should still be recognizable as a lifeguard. You'll also want to choose outerwear that's easy to toss aside if needed. A good option is a zipper-down waterproof hoodie printed with the word "guard." It'll protect you from the elements while allowing you to stand out. With its full-front zipper, it's easy to take off at a moment's notice. For something a bit warmer, you might need an inner-fleece-lined podium parka. This is perfect for swim meets, training days or events. It'll keep you warm, dry and comfortable.
While off duty, you might want to throw on a pair of guard-labeled drawstring sweatpants. These are perfect for a cool morning or between duty rotations. If you work in an air-conditioned indoor facility, you'll be glad to have some extra warmth. Along with your sweatpants, you might want to layer with a warm, pullover hooded sweatshirt. With "guard" wording on your lifeguard outfit, you'll still be recognizable as someone who can help in an emergency.
Footwear
The right lifeguard footwear can make a big difference for both your comfort and your effectiveness. While tennis shoes are cozy and protective, they offer no waterproofing and may slow you down during a rescue. You'll most often want to wear a pair of flip-flops, which are easy to kick off whenever needed. For training exercises, you might need a pair of flexible swim fins. These can help improve your swimming strength.
Accessories
You're likely to need a few accessories for your beach or pool lifeguard uniform. Some are necessary for first-aid. Some will help you draw attention when needed. Others will ensure your safety and comfort.

Hip Pack
Every lifeguard needs a hip pack with a resuscitation kit. The contents of the kit will help you avoid mouth-to-mouth contact for your safety and the victim's. This hip pack includes an oxygen inlet face mask, a pair of nitrile gloves, a wipe and an instruction packet. You might add other first-aid materials to your hip pack, too, including different size bandages and adhesive tape.
Whistle
Every lifeguard needs a powerful whistle. You have to be able to command attention in an instant. You might need to alert swimmers of an unsafe situation or stop dangerous behavior. As a lifeguard, your primary goal is to keep everyone safe — you can only do so with a loud, reliable whistle. A weak, quiet or broken whistle could spell danger for swimmers.
Lanyard
Your whistle needs to be immediately available. If you have to dig it out of your pocket, you'll waste precious seconds. This is why almost all lifeguards wear their whistles on around-the-neck lanyards. You can choose a fun lanyard color to match your taste or your facility's color scheme.
Sunglasses
A pair of polarized guard sunglasses are more than just a fashion statement. They'll protect your eyes from dangerous ultraviolet rays and ensure a full range of visibility. Squinting against the sun might cause you to miss something important, so sunglasses are essential for safety.
Water Bottle
Staying hydrated is always necessary, especially since you may need to spring into action at any second. Keep this 32-ounce guard-labeled water bottle by your side as you supervise the swim zone.
Sunscreen
Always remember to wear sunscreen! Even if you are not prone to burns, constant exposure to ultraviolet light over time can lead to skin cancer. Before every shift and once or twice throughout the day, be sure to apply at least sun protection factor (SPF) 30 sunscreen.
Towels
A towel is an accessory every lifeguard should have on-hand. Even if you never have to jump into the water, you're bound to be splashed or sprinkled with rain from time to time. You'll need a quick-drying, microfiber, full-size towel. This can help you stay dry for comfort and safe mobility.
Find Lifeguard Apparel and Equipment at The Lifeguard Store
The uniform of a lifeguard prioritizes safety, comfort and adaptability. It's a good idea to wear a secure, flexible swimsuit with appropriate footwear and accessories. Keep in mind, you might be sitting under the hot sun all day. Sunscreen, rash guards and sunglasses will protect your skin and eyes from harmful ultraviolet rays. On other days, you might have to endure chilly winds or rain, in which case you might want a waterproof jacket or pair of sweatpants. In either case, you'll always need a hip pack, whistle and water bottle.
Find all of the swimwear, outerwear and accessories you need at The Lifeguard Store. We also supply facility equipment, rescue equipment, swimming aids and water fitness training gear. Anything you might need as a lifeguard, we offer. You can shop by category, brand or sale. Browse our wide selection of lifeguard products today.

Learn More About Lifeguarding: